Insurance Call Center Regulatory Compliance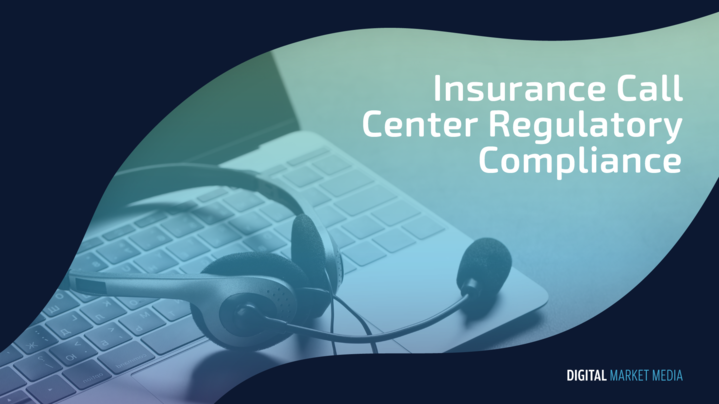 Call centers must make regulatory compliance a priority. In the course of achieving your customer satisfaction and sales goals, your call center may, if it's not careful, run afoul of multiple regulations. Noncompliance can result in fines, lawsuits, and reputational damage.
Here's an overview of some of the major regulations impacting call centers in the United States.
Call Center Compliance with the Do Not Call List
The National Do Not Call Registry is a list of phone numbers that have been registered as off-limits for telemarketing calls. People can register their home and mobile phone numbers for free.
Sales calls are not allowed. This includes sales calls from contact centers and other third-party companies.
Surveys and other informational calls that also include a sales pitch are considered sales calls, and they are not allowed.
Certain types of calls are allowed, including calls for political organizations, charities, and telephone surveyors. However, some requirements and restrictions still exist.
A company that has an established business relationship with a customer may call for up to 18 months after the date of the customer's last purchase, delivery, or payment. A company may call for up to three months after a consumer submits an application or makes an inquiry.
A company that violates the Do Not Call Registry may face massive fines and lawsuits.
The TCPA, the TSR, and Your Contact Center
The Do Not Call Registry is an important part of the consumer protections regarding telephone calls, but it is not the only requirement. Notably, the Telephone Consumer Protection Act (TCPA) and the Telemarketing Sales Rule (TSR) include many other requirements and restrictions.
Companies must maintain a company-based do not call list of consumers who have requested not to be called. A company cannot continue to call a customer who has requested not to be called even if that customer has not registered for the National Do Not Call List. Additionally, if a customer asks not to be called again, the company must comply, even if the type of call is normally allowed under the provisions of the Do Not Call Registry. For example, if a customer has an established business relationship with a company but asks not to be called, the company needs to stop calling. Call center agents must be trained to document requests not to be called, and these requests must be honored.
There are other restrictions as well. For example, telemarketing calls are only allowed between the hours of 8:00 a.m. and 9:00 p.m. Be sure to use the called party's time zone. When using automated telephone-dialing equipment, there are restrictions, including restrictions on abandoning calls and disconnecting on unanswered calls. Be sure to maintain records to document compliance. Prerecorded messages must provide key information, including the party calling and a phone number. In addition to creating policies and training call center agents to be compliant, it's also important to make sure your call center software is compliant.
These regulations are long and complex, so call centers should review the laws in their entirety. The TCPA is administered by the FCC. For more information, contact the FCC. The TSR is administered by the FTC and applies to companies that engage in telemarketing. See the FTC's compliance information for more details on the TSR.
Call Centers and Robocalls
Robocalls have been a growing problem recently, and regulations seek to address this. Telemarketers must have prior written consent before robocalling consumers. An established business relationship is not enough. Also, consumers must be able to opt-out of robocalls.
Texting Regulations for Call Centers
These regulations don't just apply to telephone calls. They also apply to texting. This means that you must comply with all TCPA requirements, including restrictions on Robo-texting and adherence to the Do Not Call Registry, when engaging in text messaging.
Call Centers and Reassigned Numbers
Phone numbers may be reassigned to new owners. This can create issues for call centers that are trying to comply with the Do Not Call Registry and other regulations. Telemarketers can use the FCC's Reassigned Number Database to reduce their liability regarding calls made to reassigned numbers.
CAN-SPAM Compliance for Call Centers
Contact centers that use email also need to comply with the CAN-SPAM Act.
The FTC says that these are the main requirements:
You can't use false or misleading header information, and this information must accurately identify the sender.
You can't use deceptive subject lines.
You must identify the message as an ad.
You must indicate where you are located.
You must provide a way to opt-out and honor opt-outs promptly.
Companies using email marketing services must monitor activities for compliance.
Data Privacy Laws and Security for Call Centers
Call centers may maintain sensitive data on consumers, including names, phone numbers, addresses, Social Security Numbers, and credit card information. New laws regulate how companies can collect and use this personal data, as well as notification requirements in case of a data breach.
The laws vary, but many of them apply based on where the affected consumer lives. Even if your call center is located in a place without strict data privacy laws, you may need to comply with laws that cover the region where your customers live. You may also have to comply with multiple, possibly conflicting laws.
New data privacy laws are being passed, so any list may be quickly outdated. Notable laws include the EU's General Data Protection Regulation (GDPR) and the California Consumer Privacy Act (CCPA). Various other states, including New York, Maryland, Massachusetts, and Hawaii have also passed data privacy laws.
Call centers that accept credit card payments should also take security seriously. Compliance with the Payment Card Industry Data Security Standard (PCI DSS) can reduce credit card fraud and other security issues.
Every Call Must Be Compliant
According to the FTC, each violation of the TSR can result in civil penalties of up to $43,792. The CAN-SPAM Act, various data privacy laws, and other regulations can also carry severe penalties. Call centers must take compliance seriously:
Review all relevant rules and regulations, including those not listed here. Also check for any additional regulations in your city, state, or country, as well as regulations specific to your industry or activities, such as HIPAA and regulations for fair debt collection.
Create policies, select software and equipment, and train call center agents with compliance in mind.
Keep sensitive data and cardholder data secure and maintain high-security standards.
Work with vendors and lead providers who also take compliance seriously.
Let the Best Prospects Call You
Customer acquisition studies confirm that inbound phone calls generated via pay-per-call marketing campaigns are up to 15 times more likely to convert compared to traditional web leads… and they convert up to 300% faster!
Digital Market Media is the leader in pay-per-call marketing. Our real-time calls marketplace delivers customers who are serious enough about buying that they call us. All you have to do to start a steady flow of new customers for your sales team to close … is turn on your account.
Learn more about how we generate inbound calls.
*This article is intended to provide a high-level review of regulations and should not be construed as legal advice.