Medicare Advantage Leads: Why Quality Trumps Quantity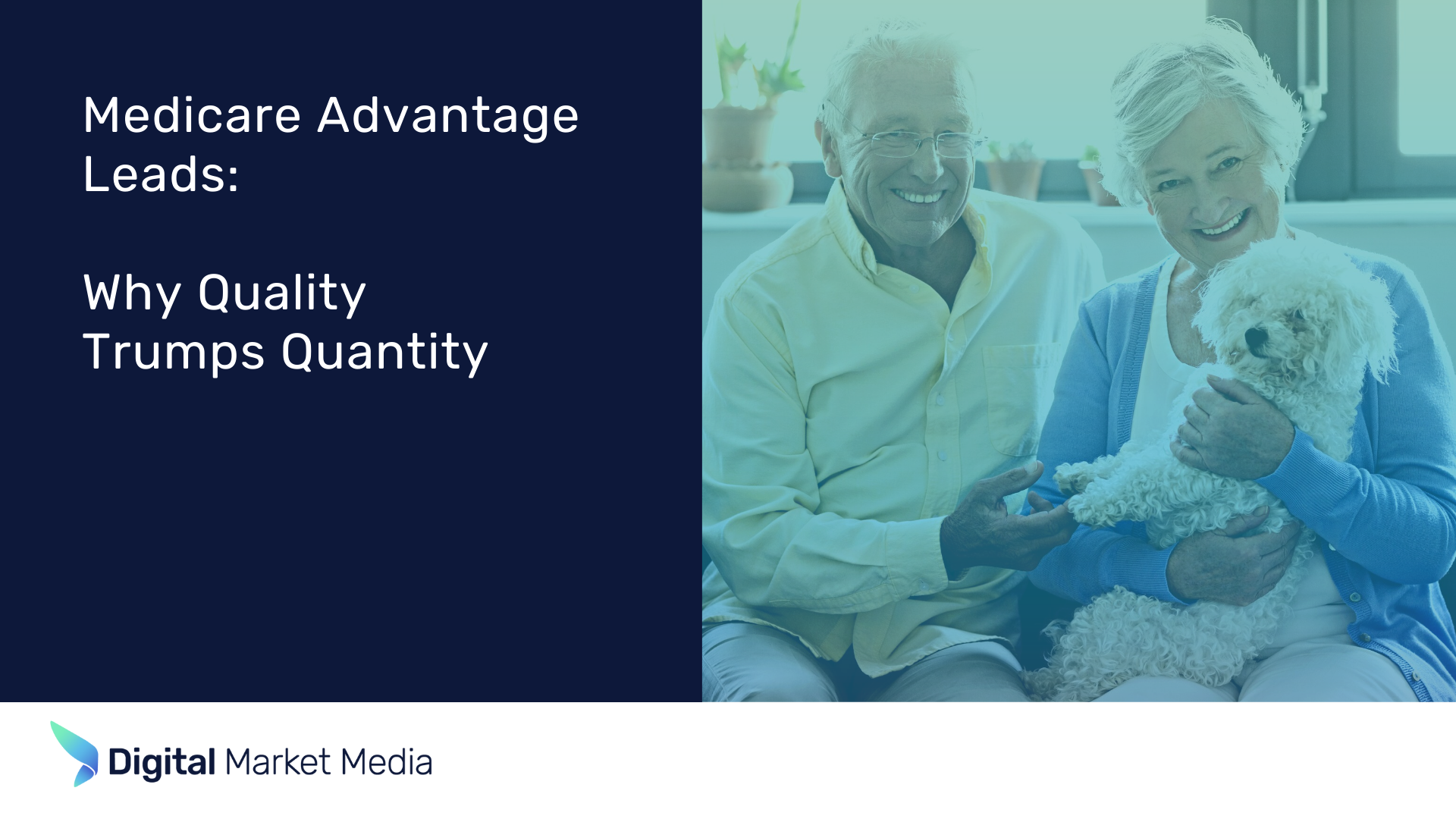 If a bird in the hand is worth two in the bush, a solid lead for a prospect who's ready to buy is worth a long list of low-quality leads that go nowhere. Some Medicare insurance agents focus on getting as many Medicare leads as possible, and they still might not manage to make many sales. The reason is simple: when it comes to Medicare Advantage leads, quality is more important that quantity.
The Growth of Medicare Advantage
This is a good time to be working in Medicare Advantage sales. The number of Medicare beneficiaries choosing to enroll in Medicare Advantage keeps going up, and this is creating more opportunity for Medicare insurance agents.
Every day, approximately 10,000 people turn 65 and age into Medicare. Many of these people choose to enroll in Medicare Advantage plans. CMS says that there are about 63 million Medicare enrollees, and about 29.5 million of them are expected to enroll in Medicare Advantage plans in 2022. This is a significant increase compared to 2021, when about 26.9 million people enrolled in a Medicare Advantage plan.
With numbers like these, it's easy to see why Medicare Advantage sales are a good career path right now. At the same time, there's a lot of competition. Some Medicare beneficiaries enroll on their own – even though they might not have the expertise needed to identify the best plan for their needs. Others stay in the same plan year after year, without bothering to see if any other plans would be better for them.
The bottom line is this: You can make a good income working in Medicare Advantage sales, but you still have to focus on finding Medicare insurance leads – and quality is key.
Low quality leads waste your time. Think about it – if you spend five minutes on each lead, and you have 50 leads, you're looking at more than four hours of work. If none of those leads pan out, you've just wasted half of your workday, and you have nothing to show for it.
Some Medicare leads are low quality because they're shared with many insurance agents, all of whom will be competing for the same sale. Others are low quality because they are old, and by the time you make contact, the prospect has already moved on or found help elsewhere. Regardless of the reason, these low-quality leads waste your time.
It's like the expression "a bird in the hand is worth two in the bush." If the bird is in your hand, it's yours. The two in the bush could get away. If you spend all your time going after them, you might end up with nothing. It's the same with Medicare leads. If you have one solid lead, you can make a sale. If you instead go after hundreds of low-quality leads, you can waste your time and end up with nothing.
How Insurance Agents Can Get the Leads They Need
If you're selling Medicare Advantage, you need a solid lead generation strategy.
In today's hyper competitive market, a direct mail campaign that targets the senior market might not cut it. You need a lead strategy that produces highly qualified leads. You also need leads that are exclusive. Timing matters, too. To succeed in making sales, you need to strike while the iron is hot. And you want all of this without having to slog through a bunch of leads or chase down prospects.
It's a tall order, but it's one that live transfer leads can deliver.
How Live Transfer Leads Deliver the Quality You Need
Live transfer leads offer a revolutionary way of approaching sales. First, a call center representative qualifies a lead over the phone. Once this has been done successfully, the representative transfers the call to the insurance agent, who can close the sale.
This system offers many advantages:
The leads are highly qualified. The call center representative qualifies the leads over the phone before transferring the call to you, so you don't have to worry about slogging through low-quality leads.
The lead doesn't have time to get cold. When it comes to lead response times, every minute counts.

HubSpot Research

found that 82% of customers think it's important or very important to get an immediate response on sales questions. With live transfer leads, you can give people the immediate follow-up they crave.
You don't waste time trying to reach leads. Many people don't even answer their phones anymore, and they might not look at the direct mail ads you send them. This can make reaching leads difficult. With live transfer leads, the prospect is already on the phone, so you don't have to worry about not getting through. As a result, you can achieve a 100% contact rate.
The leads are exclusive. If you're competing against a dozen other agents for a single sale, the odds of success aren't great. The result can be a lot of wasted time and frustration. With live transfer leads, you get 100% exclusive Medicare leads.
Get Ready for a Great Year
With about 10,000 Baby Boomers aging into Medicare every day, it's always a good time for great Medicare Advantage leads.
You also want to be ready for Medicare's various enrollment and signup periods – and it's not just about the Annual Enrollment Period (AEP). The Medicare Advantage Open Enrollment Period runs from January 1 to March 31. This is when Medicare Advantage enrollees who are unhappy with their current plan can switch to a different plan. The Medicare General Enrollment Period, when people who missed their Initial Enrollment Period can sign up for the first time, also runs from January 1 to March 31.
With two enrollment periods running concurrently, the first three months of the year can be a busy time. To get your slice of the Medicare Advantage market, you need to be ready with a positive lead partnership. Count on Digital Market Media to provide the high-quality leads you need. Learn more about live transfer leads.