Medicare Agent Training: COVID SEP Communication Strategies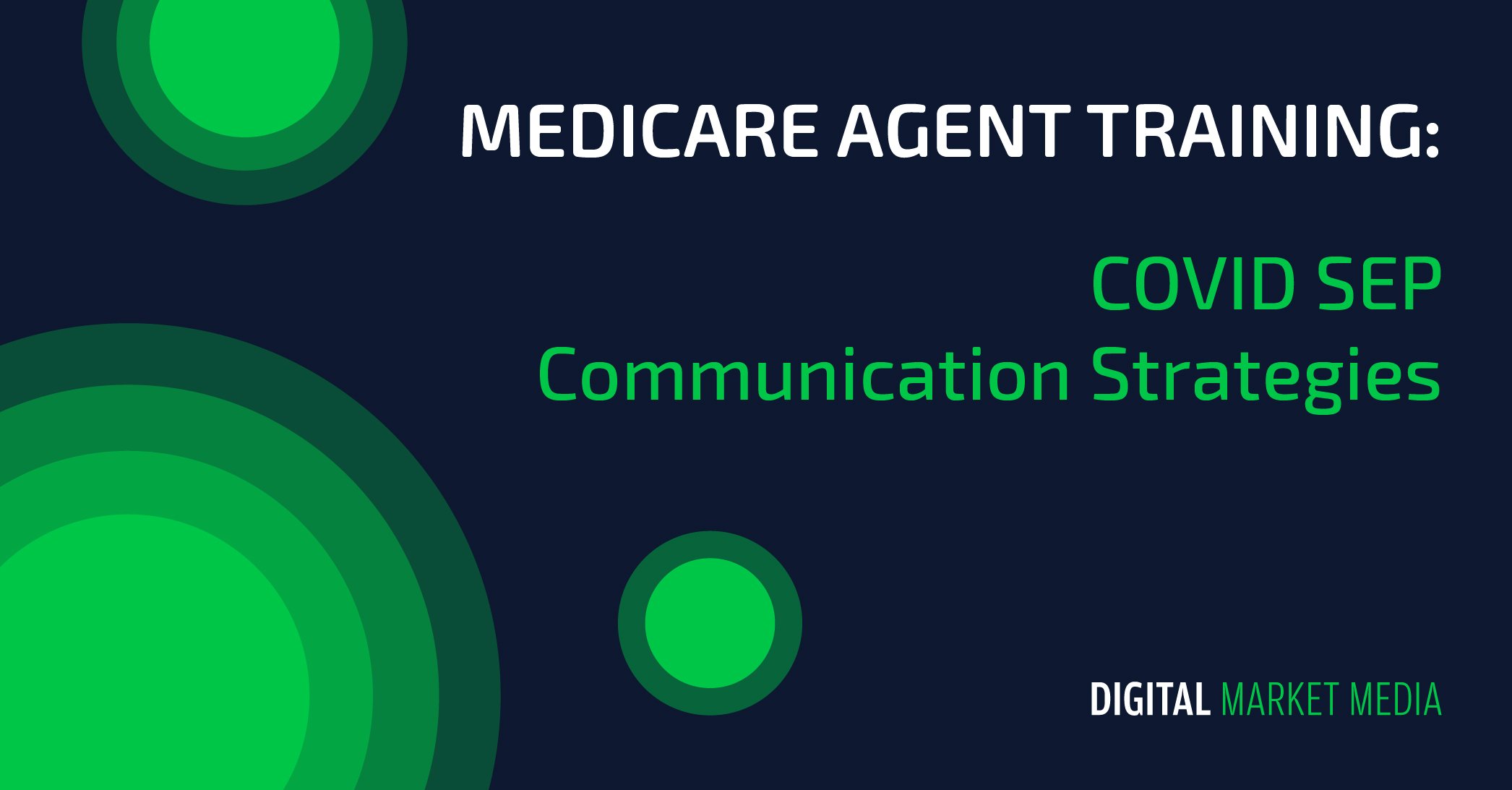 The coronavirus pandemic has forced many people to leave their jobs, shelter in place, and limit contact with others. With Social Security Administration offices closed and events cancelled, some people may have had trouble getting the Medicare coverage they needed.
But there is good news: CMS has announced a Special Enrollment Period (SEP) for people impacted by COVID-19.
While this is important information, Medicare agents must follow all marketing and communication guidelines when reaching out to clients. Here's what you need to now about the COVID-19 SEP and how you can help your clients.
What Is the COVID-19 SEP?
Individuals who are impacted by FEMA-declared weather-related emergencies or major disasters are typically given an SEP to make up for missed enrollment opportunities. The COVID-19 pandemic isn't like most disasters, but the disruption is apparent, and it does qualify for a Medicare SEP.
On March 13, 2020, President Trump issued a proclamation on declaring a national emergency concerning the novel coronavirus disease. According to the proclamation, the coronavirus emergency officially began on March 1. As part of this emergency proclamation, the Secretary of HHS was granted authority to temporarily waive or modify certain requirements of the Medicare, Medicaid and CHIP health insurance programs.
Unlike many weather-based disasters, the COVID-19 pandemic is not limited to one geographical area. According to FEMA, all 50 states, the District of Columbia and four territories were approved for major disaster declarations.
On May 5, CMS issued a memorandum stating that the COVID-19 pandemic did trigger an SEP and providing additional details on the SEP.
Who is Eligible to Enroll or Disenroll During the COVID-19 SEP?


Individuals who were unable to enroll or disenroll in a Medicare plan during the incident period may be eligible for this SEP. Here are the details:
In order to be eligible, they must reside in an area where FEMA has declared an emergency or major disaster and has designed counties as being eligible for individual or public-level assistance, or they must rely on friends or family living in such an area for help making healthcare. Because the pandemic has been declared an emergency nationwide, the COVID-19 SEP is available to residents of all states, territories, tribes and the District of Columbia.

Additionally, the individual must have had a valid election period during the incident period and the individual must not have made an election during that election period. Missed election periods may include the Medicare Advantage Open Enrollment Period, Initial Enrollment Periods, the General Enrollment Period and various SEPs.

The SEP begins at the start of the incident period and lasts for four months. The emergency officially started on March 1, so the SEP covers March, April, May and June.

Beneficiaries do not have to submit evidence to show that they were impacted by the pandemic. Simply missing an election opportunity during the incident period is sufficient.
The Do's and Don'ts of Communicating the SEP to Clients
The COVID-19 SEP is an important opportunity for many beneficiaries who missed out on an election period because of the pandemic. However, agents should not use this SEP as a reason to market for new sales.
Additionally, CMS has very strict marketing and communication guidelines that all Medicare agents must follow. Although the current situation is exceptional in many ways, agents should not think there will be an exception to these rules. The marketing guidelines must be followed as always.
Do understand the difference between communications and marketing.

CMS looks at both content and intent when making a distinction. According to CMS, communications refer to "activities and use of materials to provide information to current and prospective enrollees." Marketing refers to "activities and use of materials by the Plan/Part D sponsor with the intent to draw a beneficiary's attention to a plan or plans and to influence a beneficiary's decision-making process when selecting a plan for enrollment or deciding to stay enrolled in a plan (that is, retention-based marketing). Additionally, marketing contains information about the plan's benefit structure, cost sharing, measuring, or ranking standards.
Do reach out to clients to see how they're doing.

Provide informational communications to those who need it and assist with SEP enrollment when requested.
Don't use the COVID-19 SEP to push for more sales.

This is not AEP. This is simply an opportunity to ensure that Medicare beneficiaries are having their current coverage needs met and have not been disadvantaged by the pandemic.
Don't send prohibited solicitations to prospective clients.

This includes phone calls and text messages. Likewise, you're not allowed to go door to door or to approach prospective clients in common areas.
Don't ignore social distancing guidelines.

Many of your clients may be trying to avoid contact with others in order to protect their health.
Client and Prospect Communication
When communicating with clients and prospects, it's important to comply with Medicare guidelines, as well as data privacy laws, the CAN-SPAM Act, and any other relevant laws.
CMS has very strict communication rules for unsolicited direct contact with prospective clients.
You can use conventional mail and print media.

You can use email, but you need to include an opt-out function in all emails.

You cannot go door to door or leave flyers on people's doors.

You cannot approach prospects in common areas.

You cannot use telephone calls, voicemail or text messages.
When communicating with current clients or people who have solicited your assistance, you have a little more leeway. For example, you can return phone calls from current or prospective clients, and you can reach out to clients to discuss plan business.
Ask your current clients how they want to receive information, for example, by phone, text or email.

Keep a record of all your communications, including texts.

Stay in touch with your clients, but don't bombard them. The key is to make sure they will think of you when they need help.
Why You Should Stay in Touch Throughout the Year
AEP only happens once a year, but Medicare needs can change at any time. Your clients may need help with SEPs if they move, develop a chronic condition, or experience another significant change. If you're not there for them, another Medicare agent might be.
Reach out with important information. For example, you might provide information on how Medicare is responding to the coronavirus pandemic, including increased telemedicine benefits. You could also provide important warnings about Medicare and Social Security scams or other issues that are relevant to your clients.

Wish your clients a happy birthday. Keep track of each client's birthday and be sure to send them a card. This is a good way to stay in touch.

Make it clear that you are available for any Medicare insurance needs that come up. Provide clients with an easy way (or several ways) to reach out to you for assistance.
How and When to Ask for Referrals
There's a good chance your clients know other people who are eligible for Medicare. These friends and family members may need assistance enrolling in Medicare for the first time, making enrollment changes during an election period or navigating an SEP.
If you're doing a good job, your clients should be happy to provide a referral. However, as a Medicare agent, you need to comply with CMS marketing and communication guidelines regarding referrals.
Here are a few compliance tips to keep in mind when seeking referrals:
Do not request the phone numbers of friends or family from your clients. Let them call you if they want to.

Provide your clients with extra business cards and other shareable materials with your contact information. This will make it easy for them to refer you to their friend and family if they want to.

Medicare has strict rules on gifts. Nominal gifts are allowed in some situations, but only if the value is under a certain amount, and only if gifts are given without discrimination and regardless of enrollment. Gifts of cash or monetary rebates are not allowed.
CMS SEP, Coronavirus and Marketing Resources
Medicare agents have a lot of compliance issues to keep up with. Here are some resources to help you manage the COVID-19 SEP and marketing requirements.