TCPA: What Does Compliance Really Mean?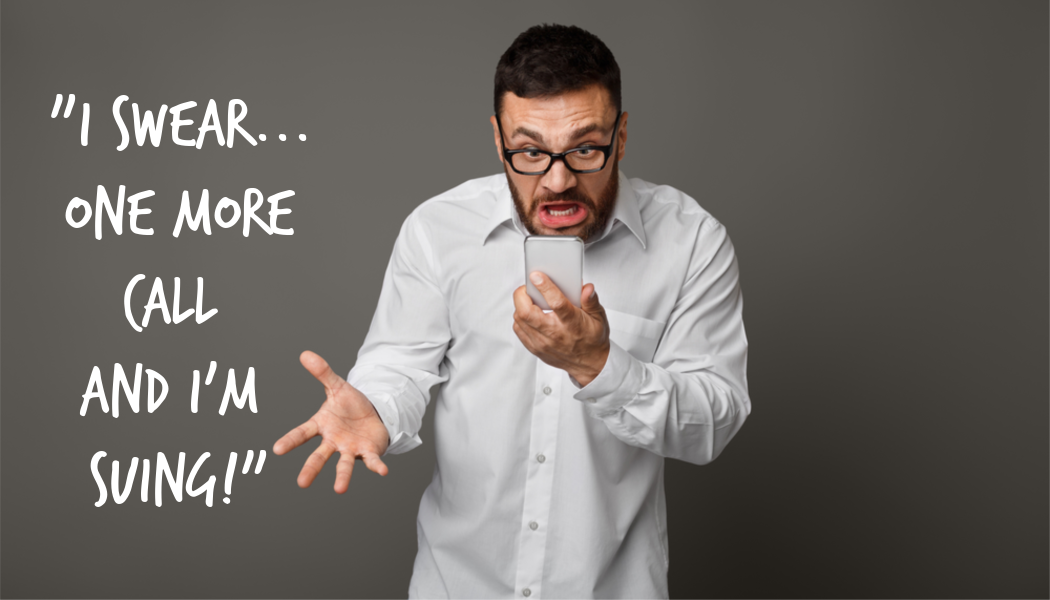 TCPA Compliance
*Ring, ring*
Before TCPA, you'd run to answer your phone, which you left in the kitchen. After avoiding half-tripping over the dog by detouring barefoot into the pile of Legos your child left on the floor, you finally reach your phone. Answering breathlessly, you can feel your blood pressure skyrocket as you realize all that hustle just went into answering yet another call from a robot offering to sell you a health insurance plan. Worse still, it's been months since you completed that online form so you could get information about health insurance. You've been insured now for a while – but the calls never seem to stop.
It's exactly this kind of scenario that prompted the creation ofthe Telephone Consumer Protection Act of 1991. Specifically, it was enacted to deal with the annoyance of unconsented autodialed telephone calls.
Before the TCPA
Prior to the TCPA, consumers were plagued by exactly this kind of call during dinner, at night, while driving – youname the time and place and they probably got assaulted by calls then and there. Consumers had had it up to "here" with this nonsense and Congress got an earful about it.
Back in 1991, of course, most of these calls hit landlines. Now, with most people using mobiles, a continual onslaught of calls is even more intrusive since our phones are always with us. The world has changed just a bit since then, but Congress wisely left some details of the legislation ambiguous on purpose where it relates to technology. Several changes to the regulations took effect in late 2013 – primarily focused on autodialing and pre-recorded messages.
The TCPA was enacted and continues to remain in effect to give consumers some sort of relief. Without prior expressed consent given by the consumer, and the level of that consent depends on what type of call it is (including SMS text messaging), companies put themselves in danger of fines and astronomically high judgments.
In a nutshell, the TCPA lays out rules for companies that use autodialing and/or pre-recorded marketing messages, whether the company is calling residential or mobile numbers. A company has to provide a "clear and conspicuous" disclosure to consenting consumers that:
They may receive telemarketing calls that may be initiated by an autodialer and may come in the form of a pre-recorded message (also called an artificial voice).
The consumer consents to be called on a specific phone number.
The consumer does not have to provide this consent in order to buy the company's products or services.

Does TCPA Apply to You?
The list of organizations and purposes that are not subject to the TCPA is short:
If you're making debt collection calls, you're in the clear for TCPA, although you've got other regulations to follow (see the Fair Debt Collection Practices Act).
If you're calling voters and prospective voters for political or campaign-related purposes manually, you're fine. If you're using an autodialer or pre-recorded message to call or text, you'll want to heed the Enforcement Advisory of March 14, 2016, and you'll need to get prior express consent from the people you call.
(https://www.wileyrein.com/newsroom-newsletters-item-FCC-Issues-Enforcement-Advisory-Reminding-Political-Campaigns-Calling-Texting-Restrictions-TCPA.html)https://www.wileyrein.com/newsroom-newsletters-item-FCC-Issues-Enforcement-Advisory-Reminding-Political-Campaigns-Calling-Texting-Restrictions-TCPA.html
If you're calling for the purpose of taking a survey or doing research, you're fine. Obviously, don't try to sneak a sales call or solicitation in there.
If your call is purely informational in nature, like when your credit card company calls with a fraud alert, your child's school calls to say your child was absent, your cell phone company contacts you to let you know you've gone way over your data allotment, or the florist calls to say those roses you ordered have been delivered… that kind of call is fine.
Mix any of those call types with a marketing message, and you're back to telemarketing and all the regulations that entails.
If you're reading this book, that's a pretty good sign that your company is legally obligated to know, understand, and comply with the TCPA. Any company that does the following should pay attention to the TCPA, get prior written consent, and direct specific questions to an attorney experienced in this area of the law:
If you call residential phones using a pre-recorded message or artificial voice
If you call mobile numbers using a pre-recorded message, artificial voice, or an automatic dialing system
If you call mobile numbers for marketing purposes, or residential numbers for any of the purposes listed above
Dangerous TCPA Myths
From the most glaring and alarming errors to some more common misconceptions, at Digital Market Media, we've heard it all. Here are some of the ways that companies put themselves in peril by not understanding the TCPA.
The TCPA is the same as the DNC… right?
Yes, for real, we hear that one! No. The DNC is part of the TCPA; you can't just comply with the DNC and call it good.
We're only calling B2B, so the TCPA doesn't apply.
Not exactly. If your company calls wireless numbers using an automatic telephone dialing system (ATDS), you've got to have prior consent.
But we're calling for some reason other than sales.
Sorry, if you're calling a wireless number, even to take a survey or to provide information, you need prior express written consent to use an autodialer.
It's not really a wireless number if it's ported from a landline.
There's an app for that, and you're still responsible here. There's a service called Neustar that'll identify phone numbers that fall into this category. You'll want to update your list every 15 days to ensure you stay safely in the grace period; beyond that, you risk being in violation and subject to fines.
We can't help it if someone on our list changed wireless phone numbers.
The regulations cover that, too. You can call a reassigned number only once before you're in danger. It might sound crazy, but the responsibility to identify and remove wireless numbers that switch hands falls on the company – not the consumer.
We don't have to worry about TCPA because we use a third party to make our calls.
Telemarketing companies might try to tell you that you're in the clear, that they'll take the brunt of any complaints that get filed, and that they've got you covered. Believe that pack of lies at your own risk. You're still on the hook, even if your call center is not making the calls in-house. The burden of monitoring calls for compliance falls to you, whether you audit call records, listen to recordings, or walk the floors of the call centers you hire. This is just one good reason to scrutinize and vet anyone you partner with on your telemarketing efforts.
We can just give people the opportunity to speak with the next available agent to be added to our in-house Do Not Call list. That'll cover our "consent" bases.
No, no, no. A thousand times no! Yes, you need an Abandoned Call Message in case there's a gap longer than two seconds between the moment someone answers the number your autodialer calls and the moment when the call connects with a live agent. In fact, if your abandon rate exceeds 3% in a 30-day period, you've got a legal problem brewing. That message must give people who answer your calls the option to push a button to be added to your in-house Do Not Call list. You can't make them talk to a live agent before they can get off your list.
We're covered.We only use text (SMS) messages, not calls.
Sorry, the FCC sees phone calls and text messages as the same under the TCPA regulations.
We paid good money for this list. By golly, we're calling it!
If you buy and use a list, the list becomes yours in the eyes of the law. Are you really sure it's a safe list from a vendor you can trust? Sunk costs aside, the risks involved in calling a questionable list can be astronomical.
We start each call asking for consent.
You're asking for trouble! Prior written consent means you got consent in writing before you made the call. Don't have it? You'd better either scrap those numbers or call them manually rather than using any form of autodialer.
What's at Stake If You Violate the TCPA?
"We are pleased to resolve this matter," the Bank of America spokesperson said. No doubt, the bank was eager to put this class-action suit behind them. The $32 million payout was going to hurt, but at a potential $11,000 fine per violation, they may have gotten off easy by settling for that astronomical sum. Bank of America's no mom and pop shop, so this suit wasn't quite enough to bankrupt them. But while this 2013 settlement may have been the largest payout in TCPA history at the time, it ought to serve as a cautionary tale for companies that would have to close up shop if they faced similar sanctions. (http://www.kleinmoynihan.com/record-breaking-tcpa-class-action-settlement/)
Here are some similarly spine-tingling TCPA tales of woe:
American Express used an autodialer without getting prior express written consent. They contracted with a third-party telemarketing company, Alorica, Inc. for nearly seven years to call prospective customers for the purposes of getting them to sign up for a small business credit card. Amex tried to foist responsibility off on Alorica but ended up settling the class-action suit to the tune of $8.25 million, which included plaintiff attorney fees of over $3 million. Outsourcing does not shield you from legal responsibility. If you – or your telemarketing vendor – use autodialing technology, you've got to have prior express written consent from the people getting these calls.
Sirius XM dropped the ball in a few ways in this case, including failure to manage their DNC list, improper use of autodialers, and "vicarious liability" stemming from outsourcing to a telemarketing company. The case that sparked the legal challenges happened because the plaintiff bought a car that came equipped with a trial subscription to Sirius XM. As his trial period came to a close, he started getting autodialed calls on his cellphone after 9 p.m. trying to get him to subscribe to the service. He asked to be put on the DNC list, but it didn't happen. For nearly eight years, this kind of telemarketing mismanagement went on. In the end, Sirius XM Radio, Inc. coughed up $35 million to establish a settlement fund to satisfy a growing number of class-action suits.
iHeartMedia seemed to think they'd beaten the system and figured out a way to use SMS for marketing without getting prior express written consent. It did not go well for them, to say the least. Their radio stations encouraged listeners to text in their song requests or to enter contests using SMS. That would have been fine if the only response iHeartMedia sent back was "Thanks. We got your message." But instead, they sent back texts containing marketing messages. The lawyers involved had a nice payday – about $3.4 million. The company set up a settlement fund of $8.5 million. The courts treat text messages as if they were phone calls; you've simply got to have prior express written consent, or face liability of up to $1,500 per text.
Wells Fargo also dropped the ball where prior express consent is concerned between 2011 and 2016. Wells Fargo denies wrongdoing in the charges – autodialing customers on their cell phones to pitch mortgages and home equity loans. To avoid the expenses of going to trial, the company agreed to settle the lawsuit by paying in excess of $16.3 million. It would have certainly been a lot cheaper just to scrub their list of cell numbers and to ensure they had prior express written consent.
State Farm rounds out this small list of big penalties with a $7 million settlement they had to pay because the telemarketing company they hired, Variable Marketing, to call consumers who might want to buy insurance violated compliance laws. Legal responsibility does not evaporate when you sign on the dotted line with a vendor.
Skirting the TCPA with Technology… Maybe
There is some confusion in the marketplace concerning what type of technologies are allowed and not allowed. For example, there is a technology that requires a click to dial. It's done one at a time and it's not actually using your finger to dial the number out but it's clicking on that number to dial a consumer.
We interviewed Matthew M. Loker, Esq. about this issue for our book, Have Them at Hello. He says, "Things get really, really, muddy in that regard. What we really focus on when regarding new technologies what the intent of the statute is. Congress enacted the statute specifically to address the problem of these auto-dialed phone calls. What's going to be subject to the law is going to be a case by case decision.
"Previously, before the FCC got involved just recently, by the BP circuit court of appeal in the FCC, what we're seeing is a predictive dialer be subject to the statute, sometimes pre-dialing will be subject to the statute, and they looked at how do these dialers function? Are they placing a lot of calls simultaneously? Is there any sort of human interaction or intervention to place those calls?"
Courts, as seen in Marks vs. Crunch, a decision that came down from the 9thCircuit Court of Appeals, are increasingly cutting through all the technical minutia to say that basically, any system that dials numbers from a list is a predictive dialer and is subject to TCPA regulations. It's a clear win for consumers and an escalated headache for companies.
From the corporate end, the focus has been algorithms, drop rates, and abandonment rates. From the consumer's point of view, it's just way too many calls with no consent. The long and short of it all is you MUST have prior expressed written consent. No matter what technological advances come down the pike in the world of telemarketing, the law will always come back to scrutinize how you answer the consent question.
TCPA Compliance
Boiled down to its essence, the TCPA regulations cover three general questions:
Does the phone equipment you use (or that your telemarketing partner uses) qualify as an automatic telephone dialing system (ATDS)?
Do you have prior express written consent?
Are your calls for telemarketing purposes or just to convey information?
As mentioned, the DNC rules fall under the TCPA umbrella. TCPA compliance laws are detailed and numerous, so the smart move is to engage an attorney who specializes in this area of the law to ensure your company is not engaging in practices that will land you on the wrong side of a courtroom. Some areas to focus on include:
Be careful about calling wireless numbers with an automatic telephone dialing system (ATDS). You need prior express written consent. What constitutes an ATDS can be boiled down to any equipment with the capacity to call numbers it stores or generates randomly.
Text messaging is the same as calling on a phone, under the law.
Never, ever call numbers used for emergency purposes only (911, poison control centers, fire or police departments, or even hospitals or medical offices).
Don't call fax machine numbers or more than one phone number at the same time at a business.
Make it easy for people to opt out of calls.
Get prior express written consent, which means:

It's in writing.
It's signed by the consumer (electronic signature is fine).
The consumer specifically gives permission for the company to contact them for marketing purposes.
It clearly specifies that the consumer agrees to calls that originate from an ATDS and/or that feature a pre-recorded message or artificial voice.
It covers a specific phone number for that consumer.
The language specifies that consumers don't have to sign the agreement in order to purchase products or services from the company.
TCPA Best Practices
In an increasingly litigious world, doing your best to treat people right isn't enough. Compliance isn't simply a matter of only calling people who want sales calls and steering clear of the others. Protecting your company from potentially colossal class-action lawsuits comes down to knowing, understanding, and documenting your adherence with the law.
Get Consent In Writing
For starters, you'll want to create and maintain a written company-wide policy that you can whip out on-demand regarding how you keep your in-house DNC list. It's not enough to write this policy and hang it on the wall in a frame. You'll want to train your personnel regularly on how to use it, and document that training while you're at it. Anytime you call someone who asks to be added to your DNC list, you need to record that person's name and phone number and remove them from your list within 30 days. You also need to keep a record of these DNC requests for five years.
Steer Clear of that DNC List
Don't ever call or text people before 8:00 a.m. or after 9:00 p.m. local (to them). Don't call or text people on the DNC (either the national registry or your own list). Don't ever call or text using an autodialer or pre-recorded message unless you've got prior express written consent – either for marketing or informational purposes.
Choose Your Telemarketing Partner Carefully
Remember that the courts will hold your company responsible for violating the TCPA regulations even if you never make a single call… if you hire another firm to make your calls for you. They do it wrong, you pay the price. You'll be what they call "vicariously liable" and on the hook for whatever fines arise from complaints. This means it's never been more important to shop carefully. Before you hire a telemarketing company, it's crucial to have a good, thorough conversation about compliance. Beware of companies that brush this discussion aside or who "guarantee" that they'll take the bullet for you if legal questions arise. There is no viable way for these agencies to protect your company financially from settlement requirements in the multiple millions, no matter what insurance they may claim to carry.
What Next?
Phew! That's a lot of information to digest, isn't it? Maintaining TCPA compliance could easily be a full-time job - and it's just one call center challenge you have to overcome every day. While hiring someone of Matthew Loker's calibre might not be in the cards for you, you can still do your utmost to protect your company.
Following the TCPA compliance regulations to the letter will certainly help. Working with a performance marketing partner who values compliance, quality, and CPA as much as you do is one of the smartest choices you can make. Digital Market Media is just that kind of company.
To find out how we can help you get all the calls, clicks, and leads you can handle from a partner who's committed to your long-term success, just reach out to start a conversation.