Medicare Careers: What Does it Take to Succeed as an Agent?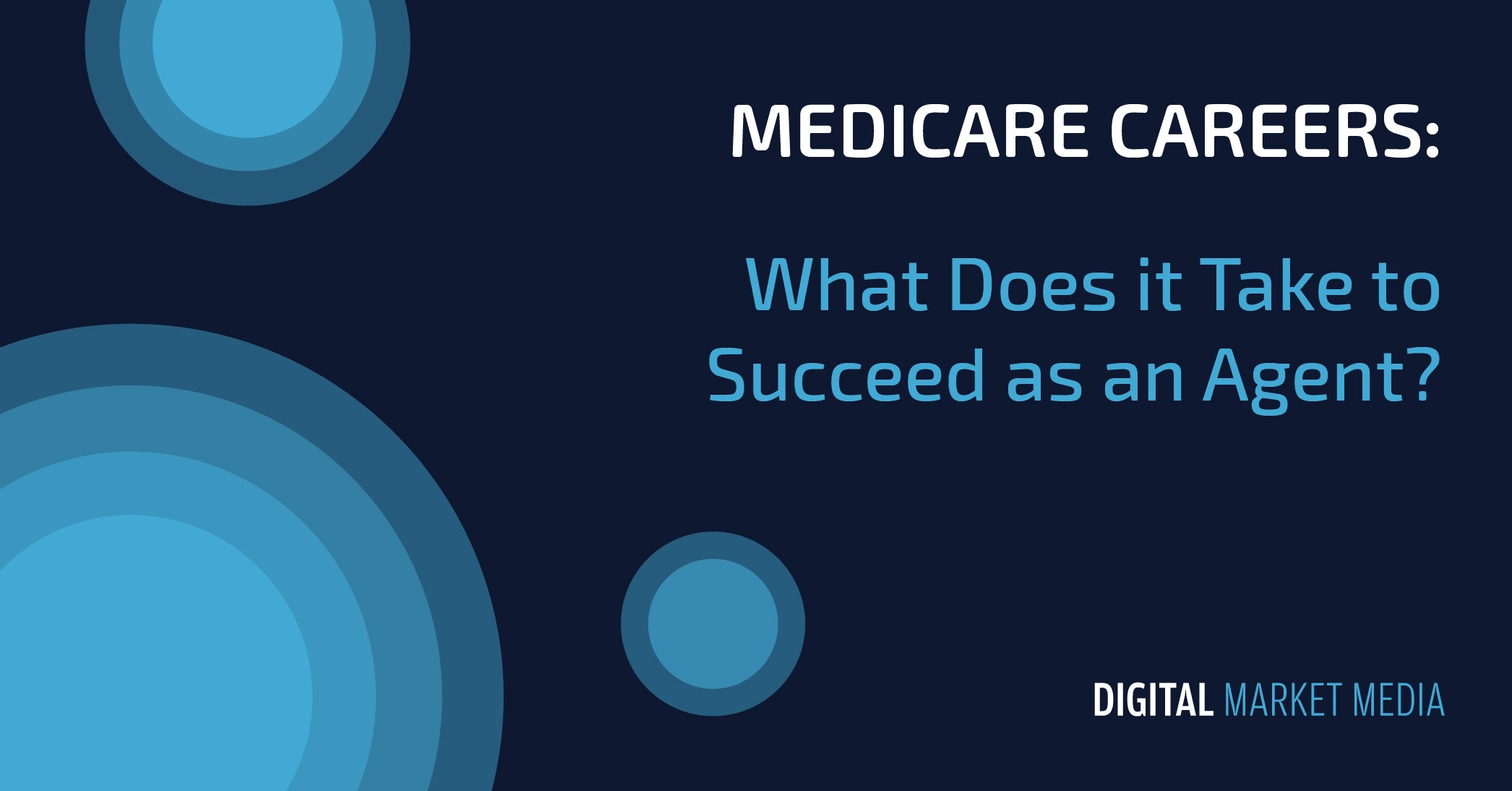 Medicare Careers: What Does it Take to Succeed as an Agent?
If you're looking for a new career, you should consider Medicare insurance sales. Medicare agents have significant earning potential and a promising future of stable career growth – but it's not just about the money. Medicare agents also get to help others while taking control of their own careers. For the right person, Medicare sales can be a very rewarding and lucrative career.
Do you have what it takes to succeed as a Medicare agent? Keep reading to find out more about the booming Medicare market and the training and skills needed to work as an agent and grow your Medicare career.
The Medicare Market Is Booming
The Baby Boomer generation is rapidly aging into Medicare.
Although some younger individuals qualify for Medicare based on medical issues, most Americans age into Medicare when they turn 65. According to the U.S. Census Bureau, about 10,000 Baby Boomers turn 65 each day. By 2030, all Baby Boomers will be 65 or older. This means that Medicare agents have an increasingly large pool of prospective clients to work with.
Medicare is a federal government program, but enrollees also typically purchase policies from private companies that work with Medicare. There are a lot of options to consider, and agents play an important role in helping enrollees find the coverage that suits their needs.
Medicare enrollees have two main choices:
Original Medicare includes Medicare Part A and Medicare Part B. People who enroll in Original Medicare typically purchase a Medicare Part D prescription drug plan from a private insurance company. They may also purchase a Medicare Supplement Plan, also called a Medigap policy, from a private insurance company.
Medicare Advantage is an alternative to Original Medicare. It is offered by various private insurance companies, and it combines Medicare Part A, Medicare Part B and often Medicare Part D into one policy. People who enroll in Medicare Advantage do not enroll in a Medigap plan.
Medicare Advantage plans have been gaining popularity in recent years. According to CMS, approximately 24 million people with Medicare enrolled in a Medicare Advantage plan for 2020. In 2020, there was an average of 39 Medicare Advantage plan choices per county.
Medicare Advantage plans often include additional benefits not provided in Original Medicare, and recent rule changes have allowed insurers to expand their offerings. This means that there's considerable variation from plan to plan. With so many options and variables, Medicare beneficiaries need more assistance than ever in navigating their election decisions. That's where Medicare agents help.
What Skills Do Medicare Agents Need?
Not everyone is cut out to be a successful Medicare agent. Here are five traits will help you succeed in a Medicare career:
Attention to Detail: Medicare agents need to follow very precise regulations. When selling insurance policies and reaching out to clients and prospective clients, agents must comply with all marketing and communication guidelines carefully. Agents also need to be careful when submitting applications. One tiny mistake could result in major problems for an enrollee. If you don't possess a good attention to detail, a Medicare career might not be a great match for you.
Organization: Medicare agents have a lot to keep track of. In addition to all the rules and regulations, you have multiple clients with different needs. There are also multiple election periods with strict start and end dates throughout the year. If you're the type of person who frequently loses important documents or misses deadlines, Medicare insurance might not be the right career for you.
Enjoyment of Helping Seniors: Most Medicare beneficiaries are age 65 or older. As a Medicare agent, you will need to meet with seniors on a regular basis to discuss their insurance needs and help them with enrollment. Some of this can be done remotely, but some of it will usually be done in person. If you do not enjoy being around seniors, you probably should not pursue Medicare careers.
Empathy: Many Medicare beneficiaries are going through difficult financial or medical hardships. They may need to tell you about their problems so you can help them find the right Medicare plan for their needs. You need to be able to listen to their needs and respond with empathy.
An Entrepreneurial Drive: Medicare agents typically work as independent contractors. This provides Medicare agents with a great deal of freedom and control. Your level of success will depend on how much effort you put in. If you're a go-getter, this can be a great opportunity. On the flip side, if you lack motivation and need someone to direct you every day, working as an independent Medicare insurance agent might not be a good fit.
What Training Do Medicare Agents Need?
You can't just call yourself a Medicare agent and start selling policies. Before you do anything else, you need to go through training, testing and licensing requirements. After that, you'll need to keep up with continuing education requirements.
Licensing: To work as a Medicare agent, you need to be licensed in your state. This typically requires a pre-licensing course and an exam.
Contracting: To sell Medicare plans from an insurer, you need to contract with the insurer. The insurer will have training and testing requirements for this, typically including AHIP and carrier-specific requirements. It's generally smart to contract with multiple insurers to provide clients with the most options. One way to quickly gain access to multiple carrier contracts is by working under a managing agency, Independent Marketing Organization (IMO) or an insurance Field Marketing Organization (FMO).
Continuing Education: Both plans and regulations change. Every year, Medicare agents need to go through training and testing requirements. Again, a strong FMO or IMO can help you stay on track with your agent training and continuing education requirements.
How Much Can Medicare Agents Earn?
According to Zip Recruiter, Medicare insurance agents earned an average of $52,817 a year as of May 26, 2020. However, there is considerable variation in how much agents earn.
Independent Medicare agents earn a commission on the plans they place, not a salary. This commission includes an initial payment the first year the policy is in place and a payment of half as much in subsequent years for renewals or a "like plan type" enrollment change.
The commission structure means that you control your earnings potential. The more plans you sell, the more you earn. This is not always the case in traditional employment situations.
This arrangement also means that Medicare agents can build a residual income. The first year you work, you will only earn commissions on initial sales. After that, you will earn commissions based on renewing sales, as well as any initial payments for new sales. In this way, your income can grow from year to year. You'll even make money without making any new sales at all – although the best way to grow your income is to make more sales each year.
In 2020, the national commission limit for the initial year for Medicare Advantage plans is $510, although some jurisdictions have higher or lower rates. The national commission limit for the initial year for prescription drug plans is $78. Maximum commission amounts can increase each year.
What Are the Advantages of Working Under an IMO or FMO?
Medicare agents have a lot to keep track of regarding regulations, training, marketing and more. Working under an IMO or FMO can help agents stay on top of everything. IMOs and FMOs can also provide important resources that help agents succeed, including:
Contracts with carriers. As an independent agent, you'll need to contract with multiple carriers before you can offer their insurance policies. Your IMO can help you through this process.
Tools to help you quote plans and enroll clients. These tools can make your job much easier – and impress your clients.
Marketing resources and templates. Creating all this information on your own while ensuring that it's fully compliant can be difficult. Your IMO can help.
Collaboration to navigate difficult situations. Sometimes problems arise. As an independent agent, you may feel like your own your own, but an IMO can help you navigate any issues that you face.