The Do Not Call List: Are You SURE You're Compliant?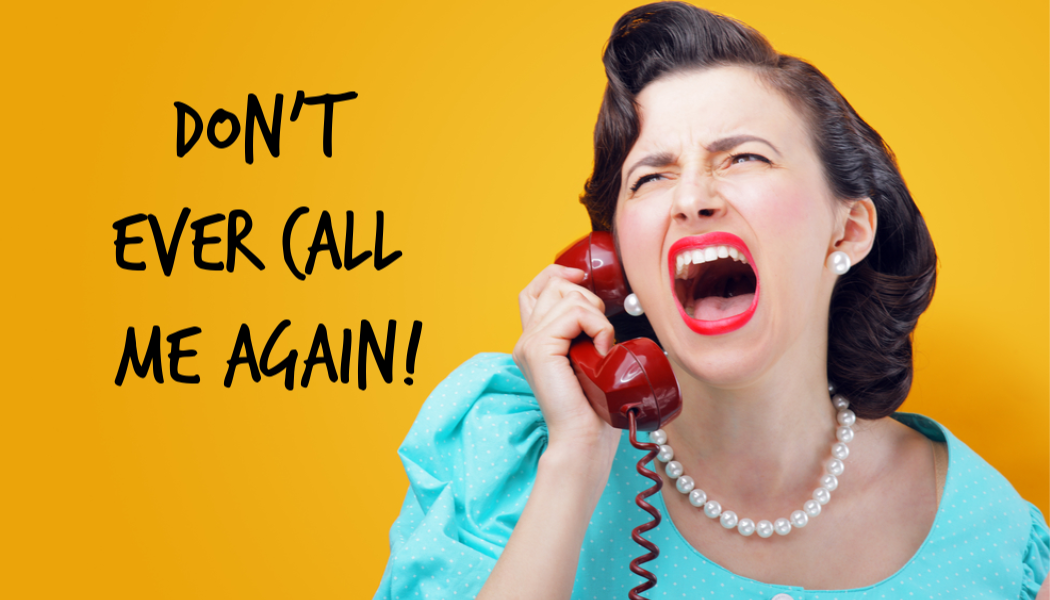 Do Not Call List Compliance
"Put me on your Do Not Call list, please."
Click.
That's just one that way consumers can stem the tide of sales calls they get. It took an act of Congress to give people some relief from the onslaught of unsolicited sales calls making their phones ring off the hook.
The DNC began in 2003 as part of the Telephone Consumer Protection Act, or TCPA. We'll dive more deeply into what's involved in more general TCPA compliance in a moment, but the DNC part of TCPA is a good jumping off place for this discussion.Does the Do Not Call List Apply to You?
Do Not Call applies to anyone making outbound calls offering products or services for sale. There are federal and state regulations you need to understand, no matter what size company employs you. With more than 266,986,860 numbers in the registry, there are state lists, federal lists, a Direct Marketing Association (DMA) list that's been around since 1985, and finally, most companies keep an internal list as well, adding numbers to it when prospects ask to be added to it. What all these lists have in common is that you should never, ever call the people on them.
There are exceptions, of course. The rule applies only to calls to consumers. Business to business calls are not covered; neither are calls made to business phone numbers – even if they are business to consumer calls. Political calls are exempt, as are calls from non-profit organizations, survey takers, and creditors or collection agencies. Should a consumer do business with a company, any calls made within 31 days are exempt – unless the consumer asks to be added to the company's internal do-not-call list. Cell phones and landlines that are not on the list are fair game.
What's at Stake If You Violate the DNC?
Violate the Do Not Call regulations, and the Federal Trade Commission (FTC) can slap you with significant fines of up to $40,000 per violation. The Federal Communications Commission (FCC) will also get a piece of that action, to the tune of up to $16,000 per violation. On the state level, the fines vary wildly.
Just a few cautionary tales to keep you up at night if you're not on top of DNC List best practices:
Dish Network violated the DNC 51,000 times from 2010-2011, resulting in a $61 million class-action lawsuit which paid out $1,200 per call.
(https://www.cbsnews.com/news/dish-network-do-not-call-lawsuit-eligible-to-collect-1200-per-call/)
Alliance Security (a company that sells home security system installation), according to FTC.gov, "made or helped others make at least two million calls to consumers that violate the TSR, including more than a million to numbers on the DNC Registry." The case settled with Alliance (and its owner, Jasit Gotra) receiving a penalty judgment to the tune of $3.4 million. Due to the company's financial challenges, the court suspended all but $320,700 of the judgment.
(https://www.ftc.gov/news-events/press-releases/2018/03/ftc-charges-recidivist-telemarketer-millions-illegal-calls)
Caribbean Cruise Line made 12,424 robocalls to employees of Sears between August 2011 and August 2012, resulting in a class-action suit that left the cruise line on the hook for a settlement of between $56 million and $76 million.
(https://www.chicagotribune.com/business/ct-biz-sears-caribbean-cruise-robocall-settlement-20180724-story.html)

In an ironic twist, Sears itself got into hot water in 2018 for violating the TCPA by using an autodialer that "dials incorrect or reassigned phone numbers" with a prerecorded message that call recipients had not agreed to receive.
(https://topclassactions.com/lawsuit-settlements/lawsuit-news/848808-sears-class-action-alleges-prerecorded-messages-violate-federal-law/)
DNC Compliance
Finding out which numbers are on the DNC is simple, if costly. According to DNC.com, companies that make calls into more than five area codes, if they are for-profit organizations calling residential phone numbers, are required to buy the Federal DNC list. At this writing, the list for the first five area codes is free. After that, the cost runs $59 per area code and more than $16,000 for lists covering the entire United States.
Ignorance is anything but bliss. Should a company elect not to purchase access to the DNC list, it "could be liable for placing any telemarketing calls (even to numbers NOT on the registry) unless the seller has accessed the registry and paid any required fees. Violators may be subject to fines of up to $41,484 per violation. Each call may be considered a separate violation." (https://www.ftc.gov/tips-advice/business-center/guidance/qa-telemarketers-sellers-about-dnc-provisions-tsr)
There is, however, a "sahttps://www.ftc.gov/tips-advice/business-center/guidance/qa-telemarketers-sellers-about-dnc-provisions-tsrfe harbor" against liability if your company calls a number on the DNC accidentally, provided the company can prove that it meets a certain set of requirements. Those requirements include:
Your company has a written record of its procedures to ensure compliance.
Your company personnel receives training on DNC compliance.
Compliance is monitored and enforced.
Your company also maintains an in-house DNC list (when a call recipient asks to be added to your list).
You've been diligent about accessing the registry every 31 days and documenting that process.
Any violating calls were made accidentally.
Do Not Call List Best Practices to Follow
Obviously, you don't want to use seeking refuge in that "safe harbor" as a risk mitigation strategy. The burden of compliance may be heavy, but it's unavoidable. While the smartest move would be to consult with an attorney who's focused on telecommunications law to ensure your company's policies keep you on the right side of the law, here are some basic rules to live by:
Never call a number listed on the National Do Not Call Registry.
Never call a number listed on your in-house Do Not Call list.
Always add people to your in-house list immediately if they ask you to.
Never make calls before 8 a.m. or after 9 p.m. in a consumer's local time zone.
Never robocall consumers who haven't given express, written consent for you to do so.
Always transmit your Caller ID information – don't try to be tricky by using caller ID "spoofing" so your call appears to be coming from someone or somewhere else.
Always seek to minimize the number of answered calls that get abandoned.
Never hang up on a call without giving consumers at least 15 seconds or four rings to answer.
Obviously, never threaten or intimidate anyone you speak with.
Never use obscene language during calls.
Never call with the intent to harass, annoy, or abuse consumers.
Always synchronize your lists monthly by scrubbing against the DNC every 31 days.
(https://www.ftc.gov/tips-advice/business-center/guidance/complying-telemarketing-sales-rule)
Choose Your Lead Source Wisely, Too
Compliance is a team effort, in the end.
There's a lot you can do inside your call center to ensure your sales team only ever talks with people who truly want to talk with you. Guarding the experience your prospective customers have with your company, starting with the first contact, not only creates goodwill... it also goes a long way toward protecting your company from the devastating legal fallout that can happen if you call the wrong people.
But the burden of DNC compliance doesn't have to fall solely on your shoulders. By partnering with a lead provider known in the industry for its commitment to full compliance, you can add another level of vigilance while ensuring your sales team has the best possible chance of turning calls into sales.
If you've got questions about how Digital Market Media's calls, clicks, and leads can help you surpass this year's sales projections, we should chat. We're here to help call centers succeed. Just click here to get in touch.